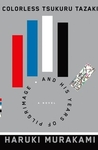 Colorless Tsukuru Tazaki and His Years of Pilgrimage by Haruki Murakami
My rating: 4 of 5 stars
I'm a total Murakami fangirl, so I was thrilled to finally get the chance to read this. This book is more straightforward than his dreamy, magical novels (Wind-up Bird Chronicle; Wild Sheep Chase.) In Colorless Tsukuru Tazaki, Murakami only alludes to the parallel words that he foregrounds in 1Q84, but these allusions add a lot of texture and depth to the main story. Tsukuru is a typical Murakami male protagonist–a bit of a passive wanderer who just happens to find himself in a life that is, on the one hand, extremely normal, but on the other hand, a bit of a mystery.  Tsukuru, along with his five colorful friends, and his love interest, Sara, are all compelling, and I was happy, as usual, to go along for the ride and watch things unfold.
My only reservation about this novel is that some of the interactions between Tsukuru and the others feel a bit stilted at times. For example, the phrase "she narrowed her eyes at him" was used again and again, but it did not convey the proper emotion of the scene–it was less that she was upset or angry, and more that she was thinking hard or being playful. It seemed a lazy usage. I wondered if these were some choices made by the translator that just didn't work for me.
That being said, this novel is well worth reading. Murakami lovers and those new to his works will find a lot to appreciate.